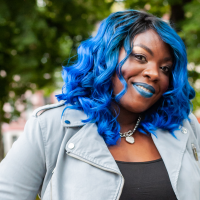 Blue Saffire
Contemporary Romance, Romantic Suspense, Paranormal Romance, Romance
Blue Saffire is a housewife with too much time to think and not enough time to herself. By some miracle, she has found the time to write books. Blue represents the secret author inside that some of us are too scared to let out.

Blue is a loving wife, who is itching to make her way back to city life. The burbs are not enough background music to the story of her life. Life throws Blue challenges daily and since her diary is no longer enough, she has decided it is time for a new outlet. Thus, you are gaining access to the mind of Blue Saffire.

So here in lays the thoughts of Blue Saffire, the author, the wife, and the woman. Enjoy.
Video
Blue's Live Out Loud Episode 1